It's December, yay! There are so many reasons to be excited, top on the list being the fact that 2020, a very interesting year will soon be gone. So, 2021 is coming, Christmas is coming and holidays are coming, whoop! You already know that all this holidaying means eating, right? That's why we're sharing this recipe of oatmeal Christmas cookies.
It's basically a healthy oatmeal cookie recipe but with a twist to accommodate the holidays. These oatmeal Christmas cookies are great because they keep the kids happy, give you something to nibble on and are handy for entertaining the many guests you'll have this season. Without further ado, let's do this!
Let's Make Some Jojos Homemade Oatmeal Christmas Cookies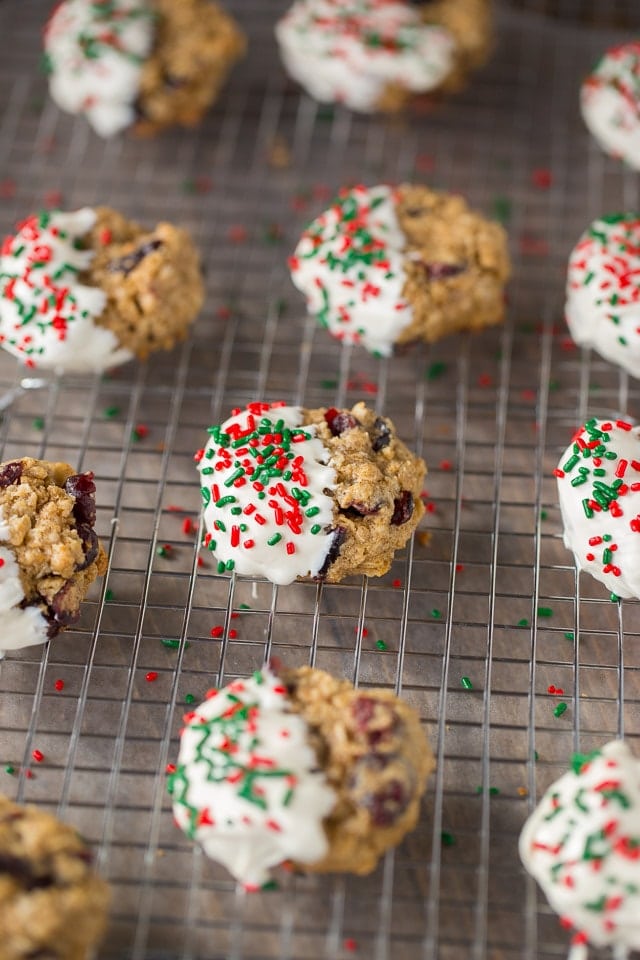 Oatmeal Christmas Cookies
Nothing fancy, just really, really healthy and tasty Christmas Oatmeal Cookies. Easy to make with only few ingredients.
Ingredients
1 1/4

cup

oats, dry

1/4 

cup

oats, quick-cooking,

dry

1 

teaspoon 

cinnamon

1/4 

teaspoon 

salt

1 

teaspoon 

vanilla extract

1 

large egg

1/4 

cup

date sugar

1/2 

cup 

coconut oil

1/2  

cup

cranberries,

dried

1/3 

cup

white chocolate chips

2 

teaspoon 

coconut oil
Instructions
Take 3/4 cup of old fashioned oats and turn it into oat flour by zipping it in a blender or food processor.  Add to bowl with oats, quick oats, cinnamon, salt, vanilla, egg (at room temperature), date sugar and melted coconut oil.  Stir until combined.

Add cranberries and stir again.

Let chill in the fridge for 30 minutes.  This solidifies the coconut oil and makes the dough thick enough to scoop.

Preheat the oven to 375 degrees and make small dough balls and place on cookie sheets.  Slightly flatten your dough balls so they don't bake too tall!  Bake for 7-9 minutes.

Using a double boiler or the microwave, combine white chocolate chips and coconut oil.  Stir until smooth and then dip cookies and add sprinkles!
Notes
 |  |  |  |  |  |  | 
So there you have it! There are several things to do with oatmeal, as you might have realized. Oats are too nutritious for us not to make the best of it in our diet. I know I've shared it before but here are a few benefits of eating oatmeal:
Benefits Of Eating Oatmeal Cookies And Foods
They are a good source of carbs and fibre, including the powerful fibre beta-glucan. They also contain more protein and fat than most grains.
2. Oats are loaded with important vitamins, minerals and antioxidant plant compounds. Half a cup (78 grams) of dry oats contains (5):
Manganese: 191% of the RDI (required daily intake)
Phosphorus: 41% of the RDI
Magnesium: 34% of the RDI
Copper: 24% of the RDI
Iron: 20% of the RDI
Zinc: 20% of the RDI
Folate: 11% of the RDI
Vitamin B1 (thiamin): 39% of the RDI
Vitamin B5 (pantothenic acid): 10% of the RDI
Smaller amounts of calcium, potassium, vitamin B6 (pyridoxine) and vitamin B3 (niacin)
This is coming with 51 grams of carbs, 13 grams of protein, 5 grams of fat and 8 grams of fibre, but only 303 calories.
This means that oats are among the most nutrient-dense foods you can eat.
3. Oats contain many powerful antioxidants, including avenanthramides. These compounds may help reduce blood pressure and provide other benefits.
4. Oats may lower the risk of heart disease by reducing both total and LDL cholesterol and protecting LDL cholesterol from oxidation.
Oatmeal may help you lose weight by making you feel more full. It does this by slowing down the emptying of the stomach and increasing production of the satiety hormone PYY.
Long story short, it's cool to explore all the ways we can incorporate oats into our diet. One of the best ways is to eat Jojos Homemade Granola. There's a variant for you, no matter your preference. All our products are made with the healthiest standards in mind. Shop some here and here.
We also have other healthy recipes. See them here, here and here. We are committed to helping you live a healthier lifestyle through your diet.
Connect with us on social media, we love to hear from you and don't forget to leave us a comment.
Happy December!
Love, Jojo.